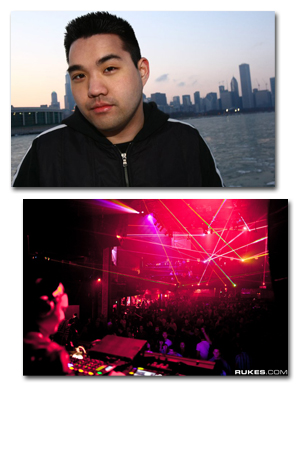 Darin Epsilon
Growing up near Chicago in the late 1990's, Darin Epsilon became enamored with the area's electronic music scene thanks to a nearby university's late-night mix shows that featured local DJs playing house and trance music. It didn't take long before it was no longer enough to just listen to the music; Darin wanted to become part of the scene, so he began writing and mixing his own music. In just over a decade hence, Darin has become one of the most sought-after international electronic music DJs, composers and producers, with many of his tracks featured as soundtracks to American DJ's YouTube videos.
"I grew up near Northwestern University, just outside of Chicago," Darin recalls. "Every week during the late 1990's, Northwestern's radio station would feature local DJs playing a blend of mind-blowing progressive house and trance. After a few years, I grew such a strong attachment to the music that I eventually made the switch from passive listener to active participant in the scene."
These days, Darin is based in Los Angeles and is right at home playing in front of 2,000 people on a regular basis at his resident club, the prestigious Avalon in LA, which was named 2009 Club of the Year by Urb Magazine. He also DJs at other high-profile clubs in the LA area, including Playhouse and Vanguard. But Darin's reputation and skill are not just known to the LA area or even the United States, as he has thrilled international audiences in several countries, including Russia, Argentina, Bulgaria, Brazil, Mexico, the Dominican Republic, Costa Rica and Canada, as well.
Many DJs have one gig that stands out from the rest, and for Darin that gig is his first outside of North America, at which he played for 1,500 clubbers in an abandoned Siberian car garage. He says he likes to play gigs where everyone is into his music, regardless of location. "My favorite kind of gig is where everyone is there for you and not for any other reason," Darin says. "I've always said I would rather play for a small group of people that is totally into the music versus a big room where nobody seems interested."
Darin is not only a talented DJ, he is also a gifted musician and producer. His very first original tune, "Bluephobia," was a huge success, garnering the attention of the house music elite after its debut on Herman Cattaneo's Metrodance radio show in 2007. He became a much sought-after remixer quickly thereafter, and to date, has worked together with well-known artists such as Matthew Dekay, Chris Fortier, D:Fuse, Kenneth Thomas, Noel Sanger, and Hibernate. Darin's remix of Hibernate's vocal anthem "Left Alone" was an enormous success for him, reaching #25 on Beatport's Top 100 and later appearing on dance music legend Paul Oakenfold's "Perfecto Vegas" compilation on iTunes.
Darin's music has reached beyond the club scene to the film and corporate arenas, with American DJ, American Audio, Elation Professional and Global Truss often using Darin's music as the soundtrack to their product videos on YouTube. Darin is also a producer whose work has been featured on MTV and in the films "Ecstasy" and "Slip Cue," putting him in an elite group of producers who have made it to the big screen.
Darin's love and passion for what he does, together with his determination and drive to succeed, have him poised to have a long and successful career. Regardless of where his DJ career takes him, Darin will always continue to write and compose his own music. "I think it's really important to have your own voice," he says.
To get more of Darin, visit the links below:
Website: http://darinepsilon.com/
Facebook: http://www.facebook.com/darinepsilonofficial
Soundcloud: http://soundcloud.com/darinepsilon
Twitter: https://twitter.com/#!/darinepsilon
Interested in appearing in DJ Spotlight?
Send your story to our editor, Jennifer Ramirez (jRamirez@fucinipro.com).