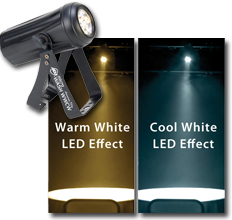 Wash Away Mediocrity!
The Micro Wash WWCW Warm White/Cool White LED Par Excels At Color-Mixing
American DJ has "white sized" the concept of a warm white/cool white color-mixing wash fixture. The company's new Micro Wash WWCW is an ultra-bright mini white LED par can that weighs barely more than 1.5 pounds, yet can produce variable color temperatures ranging from 3000°K (Warm White) to 6000°K (Cool White).
The latest addition to American DJ's Micro Series of mini lighting effects, the Micro Wash WWCW contains 4 x 1-watt Warm White and 3 x 1-watt Cool White LEDs, allowing users to smoothly blend any shade of white they wish – from the warmest tungsten to the coolest daylight. And because this powerful par is so tiny and compact (under 7 inches long) its palette of whites can be taken anywhere, even to the smallest places and tightest spaces. This makes the Micro Wash WWCW great for table or cake spotting, retail displays, performance stages, mobile entertainers, small clubs and more.
"Don't let the small size of the Micro Wash WWCW fool you. This is a powerful LED par that has a full spectrum of variable warm white/cool white color-mixing capabilities," said Alfred Gonzales, national sales manager for American DJ.
"Based on the overwhelming response to our Micro Series of mini-size fixtures, there is a strong demand for very small, lightweight and affordable lights," Gonzales added. "This is why we have added a variable white LED wash to this series. One of the really great things about the Micro Wash WWCW is that despite its small footprint, it has all the features you would expect to find on a full-sized LED par -- from DMX control to dimming."
Offering the versatility of both manual and DMX operation, the Micro Wash WWCW features 19 built-in white color macros, a 10° beam angle, strobe effect and 0-100% electronic dimming. It can be run in 5 operational modes: DMX-512 Mode, Sound Active Mode, Macro Mode, Auto Mode, and Manual Color Mode. When operated with a DMX controller, there are two different channel modes to choose from: 3- or 5-channel. A 3-button LED display on the rear panel provides easy access to the fixture's modes and settings.
The Micro Wash WWCW includes a dual hanging bracket system that allows it to be set on the ground or mounted on truss or a light stand, further increasing the fixture's versatility. Multiple Micro Wash WWCW units can be linked together via 3-pin XLR cables for use over a larger area.
Because it utilizes long-lasting, energy-efficient LED lamps, the Micro Wash WWCW is low-maintenance and inexpensive to operate. Its LEDs will shine for 10,000 hours without burning out, and each unit consumes a mere 15 watts of electricity at maximum use. What's more, because LEDs are cool-running, the Micro Wash WWCW can stay on all night without duty cycles and won't emit uncomfortable heat onto stages, dance floors and displays. Its flicker-free LEDs are also ideal for film and video applications.
The Micro Wash WWCW features multi-voltage operation: 100-240V, 50/60 Hz. It measures 6.9"L x 4"W x 2.6"H/ 175 x 101 x 66mm, and weighs 1.6 lbs./ 0.74 kg. Extremely affordable, the Micro Wash WWCW has an MSRP of just $139.95.
Keep the Micro Wash WWCW protected during transport and storage with Arriba Case model AL-52. It's a perfect fit!
Click on link below to see the Micro Wash WWCW is action!
http://www.youtube.com/watch?v=fGW9awyNB0k&feature=player_embedded
For more information Contact American DJ:
U.S. Office - Tel: 800-322-6337/+1-323-582-2650 • Web: www.americandj.com • E-mail: info@americandj.com