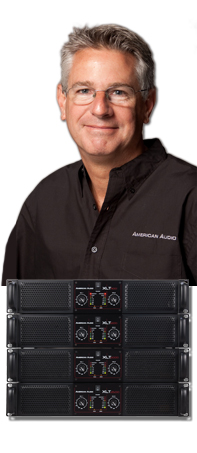 Power Play, Beefing Up
Your Amps
Forget working on your abs or your arms – for a real power play, a mobile entertainer wants to beef up his or her amps! Thanks to advances in sound technology, you no longer have to choose between bulk and power – or economy and power. Today, you can have it all – an amp that packs a punch that won't break your back when you lift it – or break your budget when you buy it. In light of this, Tom Freret, National Sales Manager of American Audio, says it's time for mobile entertainers to reassess their amps.
So you think it's time for DJs to take a new look at amps?
"Yes, because technology has changed the rules of the game when it comes to amps."
How is that?

"There have always been DJs who preferred passive speakers with amps to active speakers, because they felt it created a purer, cleaner sound. This is, of course, subjective, but the fact is that there always were – and probably always will be – DJs who prefer one option over the other.
"In the past, some of the DJs who wanted to use passive speakers with amps faced a dilemma – the amps that provided the ideal level of power for their speakers were heavy and expensive. As a result, some DJs who wanted passive speakers went to active, because they could avoid these issues, while others – in my opinion – used amps that were too small for their speakers, especially when they played in a room that was a little larger than their normal venue."
Can you explain why that was a mistake on their part?

"It all comes down to sound, as it always does with audio. Having an underpowered amp results in distortion. You also end up with the amp overheating as it tries to keep up with the speakers' demand for power, which compromises the sound even further, not to mention the damage it causes to the amp."
So, what about the new XLT Series of power amps from American Audio?

"This series consists of four very portable lightweight professional audio amplifiers that deliver enough wattage to power any mobile sound applications – and since they are lightweight and rugged they're ideal for road warriors!"
What are the four models?

"The series features the
XLT900
,
XLT1200
,
XLT2000
and
XLT2500
— four highly portable professional audio amplifiers that represent a major breakthrough in weight and affordability versus power. These budget-priced high-performance amplifiers are capable of delivering enough wattage to power any mobile sound application, making them great for DJs, bands, entertainers on the go and even small clubs and theaters."
So is the XLT900 the smallest product in the series?

"Yes it is -- the
XLT900 Power Amplifier
outputs 200 watts of pure, clean power per channel (RMS @ 8 ohms, 1K Hz, 1% THD). It weighs just 13 lbs. (5.9kg) and has a small footprint as well, taking up only four rack spaces and measuring 23.5" long by 18.25" wide by 6.75" high (595 x 460 x 170mm)."
What about the XLT1200?

"The more powerful and only slightly larger
XLT1200 Power Amplifier
delivers 310 watts per channel (RMS @ 8 ohms, 1K Hz, 1% THD) and weighs only 15 lbs. (6.8kg). Suitable for small and medium-size mobile applications, the XLT1200 takes up four rack spaces and measures 23.5" long by 20" wide by 6.75 high (595 x 510 x 170mm)."
And the XLT2000?

"It offers even greater wattage is available in the
XLT2000 Power Amplifier
, which outputs 450 watts per channel (RMS @ 8 ohms, 1K Hz, 1% THD) and weighs just 20 lbs. (9.1kg). Also a four-rack-space unit, the XLT2000 measures 23.5" long by 20" wide by 6.75" high (595 x 510 x 170mm)."
You know our next question – can you tell us a little about the XLT2500?

"I love this one! It cranks out 600 watts per channel (RMS @ 8 ohms, 1K Hz, 1% THD), making it the perfect power source in even the most demanding audio applications. It has the same weight and dimensions as the XLT2000 — measuring 23.5" by 20" by 6.75" and weighing just 20 lbs. (9.1kg) — so it's easy to transport despite its enormous output, and it won't take up too much space in your mobile rack."
So is it safe to say you're excited about this whole series?

"We are incredibly excited about introducing these groundbreaking products. Our brand has been built on providing affordable solutions to mobile entertainers, so they can get the tools they want to raise their performance without breaking their budgets. We delivered on this promise with the XLT series – for those DJs who want to use amps with power speakers, it's everything they want."

# # #