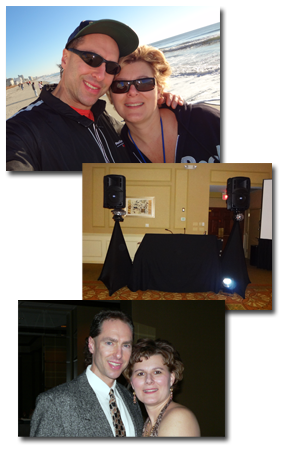 Wavey Davey B.
Becoming a professional DJ has been the fulfillment of a childhood dream for Dave Brown of Wavey Davey B's Affordable DJ Service. From as far back as he can remember, Dave has always loved music, and would often pretend to be a DJ, making mix tapes for friends and using a Mr. Microphone to entertain people. His desire to be a DJ was so great that in 1987 he wrote a local radio station asking if he could be on the morning show for his birthday, and he was thrilled when the station replied with a "yes." The experience was so positive, it served as confirmation that Dave had chosen the right career. "So I went there and did some intros, weather, etc.," Dave recalls. "I had a blast. They got kind of mad at me and said I must be a professional DJ because I didn't make any mistakes and they loved the sound of my voice. I kept telling them I never DJ'ed in my life, but I always wanted to be one. After the morning show was over, I thought to myself, I can really be a DJ because they think I am one."
After that radio experience, Tommy Jewell of Sound and Light, Inc. took Dave under his wing and helped him get started in the DJ business by building a light show and selecting the right music for weddings. "I went with him on a gig and learned a lot in just one night," Dave says. "After that I was doing lots of gigs, thanks to Tommy." Since that time, Dave estimates he's done around 1,100 gigs, ranging from small affairs to Milwaukee Brewers' tailgate parties with over 1,500 people in attendance.
Like any DJ, Dave had to get his start somewhere, and his very first solo gig was a Halloween party for a friend, who paid him $50. "The party was in the basement of their home," Dave says. "I remember hauling all of the large gear in this tiny home down a winding staircase. The house was packed with people and nobody would move out of the way. It took over an hour just to set up. Everyone had a good time, but I knew in the future that I wanted to try to stay away from DJing in a basement."
Today, Dave works with his wife Marsha, who got her start in the business as his assistant. "It was our third date and I took her to a birthday party gig," Dave says. "She wanted to help me and not just sit and watch, so I told her how to set up the lights. That was it. I was not just Wavey Davey B doing solo gigs; it was now with his wife Marsha. We became a husband and wife team." Together the Milwaukee-based couple serves the entire state of Wisconsin and northern Illinois.
Dave says that husband and wife DJ teams are somewhat unusual, even in today's mobile entertainer climate where more women are getting into the business. "Having a husband and wife DJing together is pretty cool and rare," he says. "People really take a liking to us for that reason. Marsha and I bounce ideas off each other all night long to make sure we do the best job as we can for the client." Together Dave and Marsha have a DJ style Dave describes as "interacting;" they interact with the crowd enough to make sure the event is a hit and everyone is enjoying themselves, but not too much so the spotlight isn't taken away from the focus of the event, which is often the bride and groom.
Dave enjoys doing weddings and says they are his favorite types of gigs, so it is no surprise that when asked what is the funniest thing that ever happened to him at a gig he tells a story about a wedding, one with three grandmothers who got a bit drunk. "We did a wedding where we had to introduce three grandmothers in addition to the wedding party for the grand march," Dave recalls. "During cocktail hour I noticed the grannies were really getting tanked, really dancing up a storm to my background music. One started dancing on a table and fell, the second was dancing too much and took a spill, and the third just simply had too much to drink and was escorted from the hall. This delayed the start of the introductions. After about 30 minutes I was ready to do the intros when a groomsman told me to wait as he had to go to the ATM machine and get some cash so this added another 25 minutes. I finally did the intros around 9:30 and needless to say I didn't introduce the grannies. The rest of the night was just a drunk fest. It was so chaotic. I could hardly get anyone to do the other activities. Good thing I was paid in advance."
On the other side of the coin is a wedding that stands out for all the right reasons. "I did a wedding for a model who worked for Kohl's Department Store," Dave says. "I met her and her parents before the wedding to discuss her needs. They were a very nice family and we talked for about an hour. The day of the reception they insisted I sit next to the head table for dinner and get in line for the buffet with the head table. It was a fun wedding. They treated me like family, gave me a nice tip, and I ended up doing several of their friends' weddings, too."
Dave is pretty satisfied with the way his career is going. "I have a full-time day job, DJ on weekends and also do voice-overs. If I could change anything about DJing it would be nothing. I am so happy with the changes I have seen through the years. Records, tapes & CDs are now replaced with MP3 files. I can bring so much more music to an event on a small hard drive. Sound equipment & cases are much lighter now too. I recently purchase new powered RCF speakers and they have an amazing sound. I love the new LED lighting. Clients love my light show. Years ago I had to carry extra halogen bulbs at $25 a piece because they would burn out if I ran them too long. The new LED light you can run all night long. No duty cycle. Technology has made life better for me."
And what about the name Wavey Davey? "That was my nickname back in high school, for my wavy hair," Dave explains.
Visit Wavey Davey B's channel at www.youtube.com/waveydaveyb
And his Website: www.waveydaveyb.com
Interested in appearing in DJ Spotlight?
Send your story to our editor, Jennifer Ramirez (Jennifer@fucinipro.com).