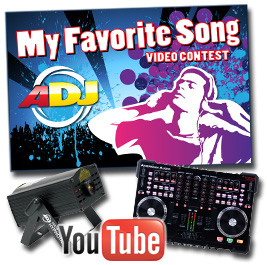 This Song's For You!
Over $4,000 Worth Of Prizes To Be Given Away In ADJ's Favorite Song Contest
Every DJ's got one… an absolutely, positively favorite song that they just love to play whenever and wherever they can. We're talking about the kind of love affair with a song that leaves DJs hoping that someone will request it every time they show up for a gig – and hey, if no one does, DJs will just go ahead and play their favorite tune anyway, just because they love the way it sounds; and the way it sets the right mood for the crowd.
As a company founded by DJs, American DJ knows all about the pull that favorite songs have on our hearts. That's why the company is sponsoring a video contest that invites DJs to talk about their favorite songs for a chance to win some really cool prizes like a Micro Hypnotic and more.
Entering the American DJ My Favorite Song contest is simple. DJs just have to pick up their videocorders and tell ADJ's contest master Brian Redd why they're so crazy about their favorite songs. Is there something about the song that just makes you feel you can do anything in the world? Does it get you in touch with deepest feelings? Is there a history to it? Maybe there's something about the melody that works magic over any crowd. Or perhaps it's a go to song that always gets people up on their feet and dancing.
"Whatever song is your favorite, tell American DJ what it is that makes this song so special to you and your performance," said Redd. "Then also tell us which American DJ lights you feel would bring out the best in your favorite song. You don't have to own the actual ADJ light or buy one, in fact no purchase is necessary to enter this contest; all you have to do is tell us which effect would make this special song even more extra special."
Video entries can be funny, warm, simple or rich with special effects, as long as they aren't over five minutes in length. Videos should be submitted to American DJ through Brian Redd's YouTube channel http://www.youtube.com/briansredd. The contest is open to all DJs from anywhere in the world.
Videos will be judged on their quality and originality, so DJs are encouraged to let their minds and creativity run free and tell the world about the songs that move them most.
No lewd or offensive videos will be considered; neither will videos that demean any ethnic, racial or religious group nor videos that endanger any person or animal. The deadline for submitting videos is midnight Pacific Time March 16th. Only videos submitted through the Brian Redd YouTube channel by the deadline will be considered. Click here for contest rules.
The ADJ "My Favorite Song" contest includes some great prizes:
First Prize is an American Audio VMS4.1 Midi Station; an Arriba AS-190 Midi Controller Gig Bag; an ADJ Micro Hypnotic; an Arriba Cases AC-60 Gig Bag; two Mega Bar 50RGB RC; an Arriba Cases AC-205; plus 500 ADJ Advantage Points.

Second Prize is an American DJ Mega TRIPAR Profiles; four Accu-Cable 10ft. DMX Cables; three Accu-Cable 10 ft. IEC Extension Cords; an American DJ RGB3C Controller; an Arriba Cases AC-140 Gig Bag; plus 100 ADJ Advantage Points

Third Prize is two American DJ Flat Par TRI7; two Accu-Cable 25ft. DMX Cable; an American DJ ADJ LED RC Wireless Remote; two Arriba Cases AC-117 Gig Bags; plus 100 ADJ Advantage Points

Six runners up will also receive American Audio color headphones (their choice of color) as prizes.
"My Favorite Song" Contest winners will be determined by a panel of judges selected by American DJ. Winners will be announced by March, 28th. No purchase is necessary to participate in this contest. It's just another way ADJ says "thanks" to all the DJs who give the company and its products their support.
For more information Contact American DJ:
U.S. Office - Tel: 800-322-6337/+1-323-582-2650 • Web: www.americandj.com • E-mail: info@americandj.com