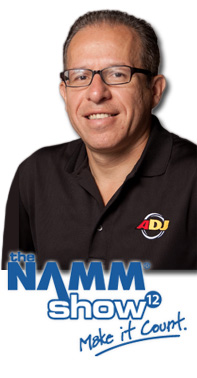 Naming Names At NAMM
Alfred Gonzales never has time for any post-holiday blues. As soon as Christmas ended, the American DJ National Sales manager was busy putting the finishing touches on our NAMM booth and stocking it full of the hottest new lighting products. Getting to Anaheim this year, Alfred was greeted by some great news – American DJ earned its seventh consecutive Dealers Choice "Lighting Line of the Year" Award from MMR, the trade magazine serving music stores. After the show, Alfred took some time from his busy schedule to show us some of the new-at-NAMM gear that he thinks will make an impact in 2012.
First, congratulations on winning the MMR Dealers Choice Award again – what is that seven times in a row?
"Yes, something like that. Personally, I'm not big on ceremonies and awards, but this one means something special, because it's from the dealers who sell lighting products to our customers."
Can you elaborate?
"This award is especially sweet, because it not only means we're selling the products people want, but also that we're backing up what we sell with great service. Dealers are the ones who bear the brunt of customers' wrath when a supplier doesn't stand behind its products, so the fact that dealers voted for us is a good thing – it means that we take care of people after the sale if anything goes wrong. As you know all of us here at American DJ – Chuck, Scott, Toby … everyone believes very strongly in standing behind our products, so it's nice to see that this commitment is recognized by the dealers who sell lighting products."
We know you've always been known for great service, but you're certainly famous for the quality of your products. What were some of the new products you showed at NAMM?
"As we told the press before the show 'The LED revolution continues to gain steam at ADJ.' We introduced some really exciting new LED products at this show– from all-in-one LED lighting systems, to innovative, easy-to-use effects that are great for small clubs and mobile entertainers."
Do you have some examples of user-friendly effects that cover new ground?
"Sure the Fun Factor LED comes to mind right away. It offers both an RGBW moonflower and an LED strobe in one compact fixture. Another big hit at NAMM was the new Jelly Par Profile Sys, a 4-unit lighting system with low-profile par style RGB LED fixtures that combine our sit-flat design with our well-known "Jelly" translucent "color-changing" plastic casing."
How about telling us a little more about the Fun Factor – we love that name!
"Well, as that name indicates this is an effect that just seems to lend itself to good times; turn it on and you get an instant party atmosphere. The Fun Factor is a compact two-in-one LED effect. It's a DMX moonflower and strobe effect -- with a total of 5 lenses and 4 strobe strips. The moonflower is powered by 210 LEDs (60 red, 75 green, 45 blue and 30 white) – and the strobe has 72 white LEDs – for a total of 282 LEDs. You can operate the Fun Factor in three modes: DMX-512, Master/Slave or Sound Active. When in Master/Slave or Sound Active mode, it runs to exciting built-in programs. You can handle some big applications with the Fun Factor too, since up to 17 of them can be linked together by using the IEC connectors."
What about the Jelly Par Profile that you mentioned?
"The Jelly Par Profile is an LED Wash fixture that features our revolutionary see-through plastic case, which allows their colorful LEDs to shine through, giving the unit a unique "glowing" appearance, which actually makes it two effects in one! We also will be showing it in a system that includes four Jelly Par Profile LED wash fixtures, one foot controller, one lighting stand, one stand bag, and one soft case for lighting fixtures."
Do you have anything new in the Mega Series?
"Yes, we have the Mega Par Profile kit, an all-in-one LED par system for mobile entertainers and stage performers that includes everything needed to set up and run a great light show on the go. It's got four Mega Par Profile LED wash fixtures, one foot controller, one lighting stand, one stand bag, and one soft case for lighting fixtures. The Mega Par Profile fixtures themselves are ultra-bright, slim RGB color-mixing units, each containing 109 x 10mm LEDs (26 red, 46 green and 37 blue) that produce extremely bright color washes and have a long lamp life of 50,000 hours. The units feature our exclusive sit-flat design, with their power and DMX connectors positioned on the side of the unit, rather than the rear. This gives you the flexibility to place the lights directly on a floor without the bracket, in addition to being hung."
Any other new products?
"One I'd like to mention before we go is the Double Phase LED. I'm pumped up about this one because of the visual energy it creates; it just transforms any room, even a large club or roller rink. The Double Phase LED is a dual barrel mirrored effect with large color changing beams. If features two powerful 10-watt CREE 4-in-1 (red, green, blue and white) LEDs. It has an impressive wide beam spread that you have to see to believe. All this excitement, yet it consumes only 40 watts and its LEDs run for an estimated 30,000 hours. It's also versatile and can be run sound activated or in Master Slave modes to its own built-in programs, as well as with a DMX controller."
So overall, it was an exciting NAMM Show?
"You bet! We have great new products. A big shout out to our R&D team for developing these great effects and a big shout out too to our customers, who give us their feedback and support. They all make it nice to go to work in the morning!"

# # #